A great commercial opportunity for associations, organizations and companies
DoctorPass is born from the specialists of Digital Health Folders (DoctorTag, DoctorPet): the FREE Universal Digital Folder for Companies, Collaborators, Customers, Associates.
FOR THE COMPANY: A GREAT SOCIAL AND COMMERCIAL OPPORTUNITY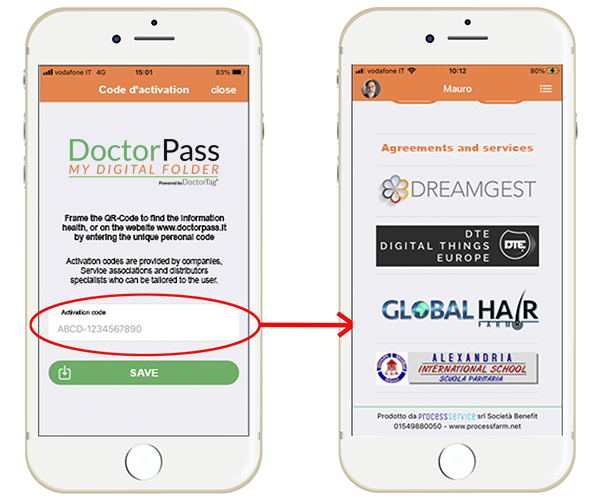 We will provide to each Company / Association
FOR FREE
the Activation Codes (one for each collaborator / client / associate). The code, entered in the App by the user, will allow a permanent link with the logo and links to company services (for new business opportunities, fidelity, agreements).
To get the FREE Activation Codes for your Company / Association contact our commercial service HERE
The Company does not intervene in the download of the App, in the data entry and management of privacy and security which remain the responsibility and responsibility of the user.
After activating a free connection to their services with the Activation Code, Companies and Business Users can enrich their commercial offer to DoctorPass Users with: with the DoctorPass Card, with dedicated communications, agreements and additions to their own specialist applications.
FOR THE USER: WHEN YOU NEED IT, ALWAYS AND EVERYWHERE
An App with free download to support the AUTONOMY and SAFETY of the User by filling in simple and intuitive forms, to have the availability of: a personal QR code with macro anamnesis, allergies, drugs in use, viewing and sharing Analysis, Vaccines, calendar visits and drug memos, Docs and Certificates (recipes, Green Pass), emergency contacts and much more.
For information and business contacts (links and conventions):
This email address is being protected from spambots. You need JavaScript enabled to view it.